Just-for-fun reading from Suzie Andres!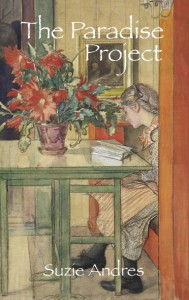 From the back cover: Have you ever kept a New Year's Resolution? Elizabeth Benning hasn't, but she's determined that this will be her year. Like Elizabeth Bennet before her, Liz Benning doesn't work, lives at home, and takes pride in her resourcefulness, but when she resolves on a yearlong project to be happier, it looks like her ambition has outrun her abilities…Enter a love interest more conniving than Wickham, a blonde cold enough to freeze out Caroline Bingley, and Elizabeth's paradise project is heading for disaster. She's never been so unhappy, but if she can discover which hero is straight out of her beloved Jane Austen, she might yet take the prize for happiest ever after.
Now available on this website CLICK HERE to go to the order page.