NEW!

The Gauntlet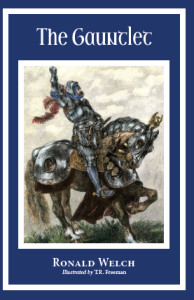 by Ronald Welch
A young boy visits the ruins of a castle in Wales which his ancestors once inhabited. He is magically transported back in time to the 1300s by means of the gauntlet he finds on the ground. He is the supposed son of the lord of the castle and learns all about Medieval life . . . first hand. When he returns to his own time, he wonders how he can possibly make people believe everything truly happened. For 5th grade and up.
NEW!

The Thrall of Leif the Lucky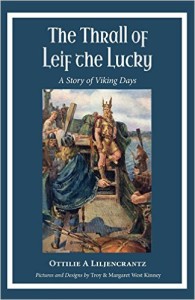 by Ottilie A Liljencrantz
English born Alwin is captured by Viking slave traders and becomes a thrall of Leif the Lucky. He proves his worth in many ways and becomes a trusted servant of Leif, even sharing in Leif's dream of finding the mysterious land in the West. Leif had promised King Olaf that he would convert Eric the Red, but that path is filled with danger as the Christian religion is outlawed by Eric. Just as he is making strides with his mother and Eric the Red, the thrall Alwin crosses Leif in a way that cannot be forgiven and is struck down and thought dead. Alwin's romance with Leif's foster daughter takes shape in that moment, and no one's life will be the same. Told in the style of a Nordic saga and filled with Nordic traditions and stories, as the Vikings, perched on the tipping point of a new way of life, slowly convert to Christianity.
Recommended for high school readers.
NEW! Black Fox of Lorne by Marguerite de Angeli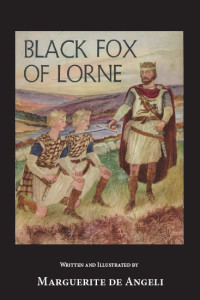 Yes, it's true . . . we are reprinting this favorite from a favorite author! Set in the 11th century, twin boys leave Norway with their father and his entire household to build a new life in Britain. However, their ships crash on the shore of Scotland and they meet death and danger in the lands of the Black Fox. The boys use their wits and their natural talents to persevere and eventually accept the land and religion of the Scots. Okay, the story is way better than that retelling, but I can't give it all away – right? A Newbery Honor Book winner in 1957, we humbly re-present it to today's young readers! Available at online retail outlets.
T

he Paradise Project
by Suzie Andres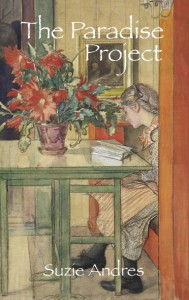 Fun, light Catholic romantic comedy!! Available now – use the paypal "Add to Cart"  button below.   ($18.00 plus shipping)
Have you ever kept a New Year's Resolution? Elizabeth Benning hasn't, but she's determined that this will be her year. Like Elizabeth Bennet before her, Liz Benning doesn't work, lives at home, and takes pride in her resourcefulness, but when she resolves on a yearlong project to be happier, it looks like her ambition has outrun her abilities . . . Enter a love interest more conniving than Wickham, a blonde cold enough to freeze out Caroline Bingley, and Elizabeth's paradise project is heading for disaster. She's never been so unhappy, but if she can discover which hero is straight out of her beloved Jane Austen, she might yet take the prize for happiest ever after.

For high school and adult readers

Book plus 2.50 media mail:

Book plus 5.25 Priority Mail:



E-book for Kindle
This is a list of all the novels we publish. They are available from your favorite online retailer. We focus on reprints of historical fiction, but also have some contemporary titles (in red).
Children of the Red King  by Madeleine Polland
This was Mrs. P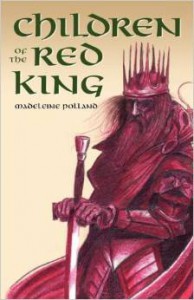 olland's first novel for children, and it is excellent! In her usual beautiful storytelling style, she tells the story of the last Irish chieftain to hold out against King John and the English conquest of Ireland. While his children are held captive by a Norman knight, Cormac of Connacht battles to keep the land free and retain his kingship against conspirators. Exciting historical fiction set in early 13th century Ireland.
Chuiraquimba and the Black Robes by Madeleine Polland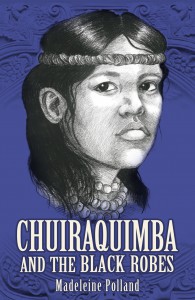 Chuiraquimba has lived all her life in the forests, the daughter of a powerful chief. When her father abandons her dying brother, she runs to the "Black Robes" for help. She and her brother are welcomed into the Jesuit reductions and come to believe in the Christian religion. Slave traders however hunt the Guarani, poaching them from the reductions despite the priests efforts to convert the slavers and reform the practice of slavery. Eventually the priests gather the remaining Guarani and move south over the falls along the Parana River to a better location. Along the way, Chuiraquimba's faith is tested, but she never falters and ultimately finds hope waiting at the end of her journey. Based on the true events of 1600s Paraguay. A former "Clarion" book originally published in 1961.
City of the Golden House by Madeleine Polland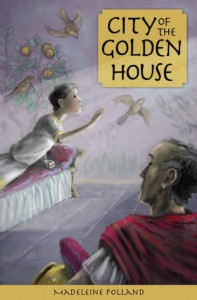 Perfect for unit studies of the early years of the Church!
The events surrounding the burning of Rome and the subsequent Christian persecution provide the backdrop for this story of faith and friendship. A young slave from Britain finds himself in Rome at a tumultuous time. Through his acquaintance with Christians he comes to understand and love the new religion. Out of his zeal for the love of the Christ, he performs a great spiritual work of mercy that sadly goes awry. In the end, God's providence and mercy shine through. (We don't want to give away too many more details of the story and ruin it for you!) It's a  beautiful story.
Cross Among the Tomahawks by Milton Lomask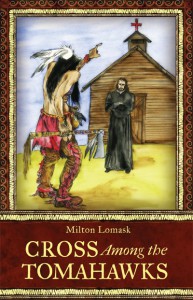 Two Huron boys learn about living the Faith from martyr John de Brebeuf. Taken from their home and sent to seminary school in Canada, the boys learn the faith as well as how to overcome their faults and trust in God. When they return to their tribe, they assist Father de Brebeuf, but eventually they are unable to hold off the marauding Iroquois. Based on the life and martyrdom of St. John de Brebeuf. Reprinted from the Catholic Clarion series.
Copyright note: Mr. Lomask renewed the copyright for this title, but we have been unable to find his family/estate. We have reprinted it considering it an orphan work. We request that if you have any information about the estate of Mr. Lomask, please contact us: sales@www.hillsideeducation.com.
Fabiola by Cardinal Wise Wiseman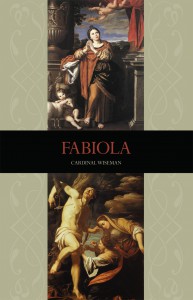 Cardinal Wiseman's classic story of the Christian persecution under Emperor Diocletian in the 300s AD. Fabiola is perplexed by the new-found faith of her cousin Agnes as well as her servant, but is especially intrigued when she finds the noblest Roman soldier she knows, Sebastian, is also a Christian. In this moving description of the Roman catacombs and the captured Christians who faced cruel death with unearthly fortitude, a story of faith and renewal unfolds in the decaying Roman empire. This is the version recommended by MODG.
Father Brown Reader: Stories from Chesterton adapted by Nancy C. Brown
Adaptations of four of Chesterton's Father Brown mysteries for young readers: "The Blue Cross," "The Strange Feet," "The Flying Stars," and "The Absence of Mr. Glass."
Available from
Father Brown Reader II: More Stories from Chesterton adapted by Nancy C. Brown
Sequel to the popular Father Brown Reader: Stories from Chesterton. Includes adaptations for young readers of four of Chesterton's Father Brown murder mysteries: The Inivisible Man, The Mirror of the Magistrate, The Eye of Apollo, and The Perishing Pendragons. In these stories, the notorious criminal Flambeau has reformed and is now a great detective. He is often aided by his friend and confidant Father Brown.
God and the General's Daughter by Anne Heagney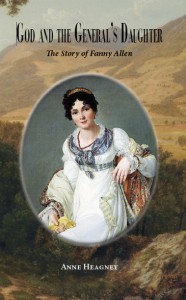 This is based on the true story of Ethan Allen's daughter, Fanny! I don't want to give away too much in this blurb because reading the story is so delightful. You can sort of figure out from the title, though, that God works in wonderful ways in Fanny's life, and through her grows the Church in New England.
Francis Margaret Allen, daughter of legendary Revolutionary War hero Ethan Allen, leads a charmed life. She is beautiful, intelligent, compassionate, and loves the vitality of freedom in pristine Vermont. Devoted to the "rock-bound hills" of the Green Mountains and finding God in every blade of grass, she doesn't see the need for organized religion and its needless rituals. But God has other plans for Fanny Allen. She has but to open her mind to the longings of her heart!
Lion in the Gateway by Mary Renault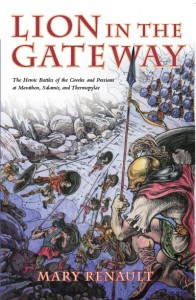 Subtitled, The Heroic Battles of the Greeks and Persians at Marathon, Salamis, and Thermopylae, this is a great retelling of those epic ancient battles which shaped the course of Western Civilization. All the great characters are there: Darius and Xerxes, the Persian Kings; the Greeks Themistocles, Alcibiades, and the Spartan for whom the book is named, Leonides, and many others. The book begins with the historical roots of the people of Ancient Greece and how they came to love their freedom more than anything else. Recommended for ages 9 – 12.
Ship's Boy with Magellan by Milton Lomask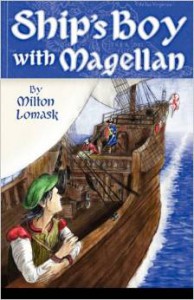 Young Pedro escapes his uncle who is planning to kill him in order to gain the family title and fortune. His escape route takes him around the world . . . literally, as the cabin boy on Magellan's flagship the Trinidad. Lomask tells a tale of great adventure as Pedro experiences the joys and perils of the fleet Armada de Maluca These include mutinies and battles with native people as well as with the sea herself. Pedro is one of the few who survive the voyage, and he returns to Spain to claim his birthright. Recommended for grades 4-7. Used in the 4th Grade Mother Of Divine Grace Syllabus
Copyright note: Mr. Lomask renewed the copyright for this title, but we have been unable to find his family/estate. We have reprinted it considering it an orphan work. We request that if you have any information about the estate of Mr. Lomask, please contact us: sales@www.hillsideeducation.com.
Simon Brute and the Western Adventure by Elizabeth Bartelme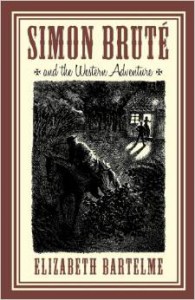 This is a reprint of a well-told story about holy Father Simon Brute and his influence on Catholic America. Raised in the time of the French Revolution, Simon studied to be a doctor. But he found his true vocation in the priesthood. He desperately wanted to be a missionary but was given the job of teaching at the seminary. He finally was assigned to go to America and helped to establish Mount St. Mary in Maryland where he befriended St. Elizabeth Ann Seton. He was then sent to be the first bishop in Vincennes, Indiana on the American frontier. His dream of being a missionary finally realized. An exciting and inspiring story!!
Sword of Clontarf by Charles Brady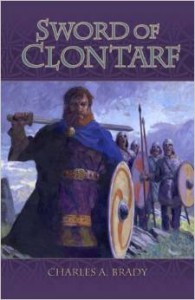 Niall must leave his native Iceland after the murder of his father and make his way to his Irish grandfather, the Chieftain Mael Seachlinn. Before he can be presented to his grandfather and the High King Brian Boru, he stays in a monastery and studies at a bardic school. As the battle for Ireland approaches and the chieftains of Ireland unite, Niall is swept along and both weeps for the loss his North must endure and rejoices in the glory of Ireland. In the end he learns "what is the greatest bard fee" . . . the glory of heaven. Filled with poetry and valor, this is a great adventure in the Catholic tradition!!
We are thrilled to offer this reprint (originally published in 1960) of such a masterfully told story.
The King's Gambit

by John McNichol
Illustrated by Sean Fitzpatrick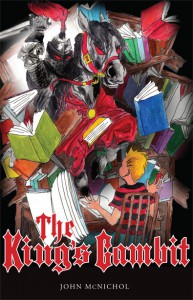 An action sci-fi adventure for tweens — with a chess theme!!
Edward's life isn't the best it has ever been. His Dad's been missing for two years; his mom's job keeps her busy and tired all the time; and the bully situation at school is getting rougher. Next to his apartment, the only place he feels safe is reading at the local library.
Suddenly, the library isn't safe either! A black knight on a horse charges at Edward right out of the Children's Fiction section, and soon he's on the run with an FBI agent for company.
Dodging dangers and looking for help in some surprising places, Edward travels to fantastic world, fights incredibly powerful enemies, and learns how all his adventures tie in to his father's fate.
But will he live long enough to save his parents and himself?
192 pages Softcover
The King's Thane by Charles Brady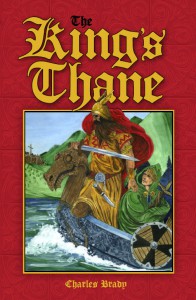 This action-packed story retells the Beowulf tale, but sets it in England at the time of St. Paulinus, first Archbishop of York. Young Beorn a lame youth of fifteen, had little hope of becoming a thane or knight in King Edwin's English court. However, when the Norse hunter Bjarki-a traveler from Geatland, descendant of the first Beowulf-takes Beorn on as an apprentice thane, Beorn becomes involved in adventures he never dreamed of: slaying of the Grendel, uncovering and foiling a conspiracy against the King, and finally the conversion of Northumbria to Christianity.
Word to Caesar by Geoffrey Trease
Set in Imperial Rome at the time of Emperor Hadrian, a teenaged boy travels across the Empire from his home in Britain to seek an audience with the Emperor. Along the way he meets up with the villains who are trying to stop him, a famous charioteer who helps him, apathetic solicitors who won't help him, and finally the Emperor. At every step of his adventure, he remains loyal, demonstrates courage and prudence, and does not give up even when it seems impossible.