NEW! In print at last: How Our Nation Began

A Full color reprint!
How Our Nation Began by Don Sharkey, Sister Margaret, and Msgr, Furlong.
We have reprinted this homeschool classic in full color. We re-typeset the whole thing (not a facsimile reproduction) — it has been a huge project. This title is used in Mother of Divine Grace School curriculum for 3rd grade.
NEW!

Joan of Arc by Hilaire Belloc
This has long been my favorite telling of Joan's story. It is not dripping with sentimentality and gives a clear account of the historical context. She was awesome! For high school and up.

NEW!
Great Moments in Catholic History
by Rev. Edward L. Curran
100 events in Catholic History are presented with an illustration–one per page. At the end, there is collection of comprehension question, five for each event. The first event is the Annunciation and the last is the publication of the encyclical Atheistic Communism in 1937.
The Story of Greece and Rome by Robertson and Robertson
This is readable history for high school students. The chapters are fairly short to better facilitate narration. The text includes comprehension questions at the end of each chapter.  Most are literal comprehension, but some call for comparison, analysis, and evaluation. An answer key for the questions will be available this summer.
The World's Story: A Simple History for Boys and Girls  By Elizabeth O'Neill
This title is available from www.rchistory.com
This readable history for children is a reprint of text from 1907. We have updated some of the images and reprinted it in a full-color hardcover edition. It's intended for middle intermediate grades (5th-8th grade depending on your child's reading level). We've provided a link below to a sample chapter (so you check out the reading level) and the table of contents. It provides a balanced view of the Renaissance and Reformation and ends just before World War I.
We wanted to do a faithful reprinting of the text, so we did not update the information to current knowledge. One point in particular of which you should be aware is that she conveys the misconception that people at the turn of the 20th century held (and that I was taught in school in the 60s) about Christopher Columbus: Everyone else thought the world was flat and he alone figured out it was round. In fact, all learned people of his time knew the earth was round, even back to the Ancients, who had accurately calculated its size. Columbus misinterpreted some the ancient calculations, and so the trip took longer than he expected.
Despite these small and somewhat quaint deviations, the book is an interesting well-told story of the history of man. Hardcover!
Sample Chapter: Chapter XX-the Northmen
Table of Contents: Table of Contents
 Lives from Plutarch, translated by James McFarland
Subtitled Modern American Edition of Twelve Lives, this volume includes adaptations of Plutarch's biographies of the following men: Greek: Lycurgus, Aristides, Cimon, Pericles, Alcibiades, Alexander Roman: Coriolanus, Marcus Cato, The Gracchi, Cicero, Caesar, Antony This edition makes the writing of Plutarch more accessible to high school readers. This is the version used in Mother of Divine Grace Homeschool.  Also available from www.emmanuelbooks.com
American Background Series

These books were printed over a span of 20 years in the 50s and 60s specifically for a Catholic audience. They are biographical in nature, but told like a fiction novel.
Colonial Governor Thomas Dongan
 I chose this book to reprint first because the story not only gives a good perspective of the tumultuous founding of our country, it involves the religious persecution of Catholics especially as the monarchy in England tumbled back and forth. The struggle we are experiencing now in America is not new!!
Available now on Amazon.
The Friar and the Knight: Bartolome Olmeda and Cortez
by Flora Strausse
Fray Bartolome de Olmeda was known as "protector of the Indians." This story tells how he accompanied Cortez to Mexico and found his vocation among those that suffered under the new colonization. Written from the prospective of the good padre, Cortez is portrayed as a great leader and zealous Christian, but also as a human man with just as many weaknesses as abilities. Cortez's men are enchanted by Montezuma's city but just as horrified at the human sacrifice upon which it feeds. Although the story is based on true events, it reads like an adventure novel–for it certainly was an adventure.
Don Deigo de Vargas: The Peaceful Conquistador
by Rosemary Buchanan
Don Diego de Vargas was determined to reclaim the New Mexico territory for Spain without bloodshed. Twelve years earlier, in 1680, the Pueblos rose up against the Spanish colonists and killed 21 missionary priests, forcing the colonists back to Mexico. When De Vargas returned in 1692, he paid for the entire excursion out of his own money and placed his mission under the protection of Our Lady of the Rosary La Conquistadora. His mission was initially successful, but was fraught with political sabotage and ultimately more bloodshed. Yet, Diego remains to history The Peaceful Conquistador.
Henri de Tonti and the Exploration of the Mississippi
by Ann Heagney
This may be my favorite in this series so far. I had never heard of deTonti before reading this book and I think many people would say the same. How many men like him forged our frontiers and are lost to history. I think you will enjoy this telling. Packed with exploits in the forest and
on the waterways of colonial America,
this is the story of Henry de Tonti, French
explorer and pioneer of the Mississippi
river. His story has been somewhat lost to
history, sitting in the shadows of his friend
and commandant, the explorer La Salle. But
his accomplishments are just as noteworthy.
He was instrumental in founding most notably St. Louis,
Missouri, Little Rock, Arkansas and Mobile, Alabama.
I chose the painting by George Catlin of La Salle's expedition into the Mississippi for the cover. Without de Tonti, this expedition might not have been successful.
Simon Brute and the Western Adventure
We've had this book in print for several years, but it is also from this series. It is a well-told story about holy Father Simon Brute and his influence on Catholic America. Raised in the time of the French Revolution, Simon studied to be a doctor. But he found his true vocation in the priesthood. He desperately wanted to be a missionary but was given the job of teaching at the seminary. He finally was assigned to go to America and helped to establish Mount St. Mary in Maryland where he befriended St. Elizabeth Ann Seton. He was then sent to be the first bishop in Vincennes, Indiana on the American frontier. His dream of being a missionary finally realized. An exciting and inspiring story!!
Charles Carroll and the American Revolution
by Milton Lomask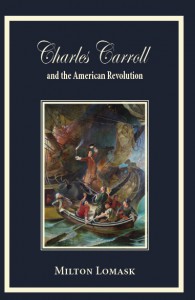 As a prominent Catholic in Maryland, according to the law, Charles was unable to vote, hold office, or present a case in a court of law. But all that changed in the years before the Revolution. Charles proved himself a loyal patriot and through his vigorous defense of the rights of the colonists, moved along the cause of both religious and political freedom. He earned such respect in Maryland that he was chosen to attend the Continental Congress at which he became the only Catholic signer of the Declaration of Independence. During the War, he worked to obtain military aid from France and defended Washington's command of the army to the Congress. After the War he was elected to both the Maryland Senate and the United States Senate. He lived to the age of 96, the longest living signer of the Declaration.
Chaplain in Gray: Abram Ryan, Poet-Priest of the Confederacy
by H.G. Heagney
Father Abram Ryan s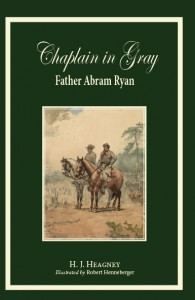 erved as a chaplain for the Confederate army during the Civil War, but was revered and admired by north and south alike. He felt a longing to participate in defending his homeland, but saw first hand the moral and physical destruction of war. He prayed fervently for a peaceful end to the war. This is his story, the story of his faithful service to God's children and his forgiving victory over the hate and cruelty that followed the war.
My brow is bent beneath a heavy rod!
My face is wan and white with many woes!
But I will lift my poor chained hands to God,
And for my children pray, and for my foes.
From "The Prayer of the South" by Fr. Abram Ryan
General Phil Sheridan and the Union Calvary
by Milton Lomask
Philip Henry Sheridan was one of the greatest Union generals of the War between the States. Yet, before this brilliant leader was able to win battles, he had to win a victory over himself. Young Phil was a headstrong and willful youngster whose solution to all of boyhood's difficulties was to attack with his fists. Resolved to gain self-control, Sheridan rose in stature as a careful, deliberate strategist as well as a fearless, daring fighter. This is a story filled with the drama, sights, and sounds of the war that restored the Union. But more than that, it is a colorful picture of a captivating personality, who became known as the last of the great American cavalry men.
Margaret Haughery: Bread Woman of New Orleans
by Flora Strousse
Having come through the crucible of personal suffering, Margaret Haughery spent her life serving others. She was an astute businesswoman who made money so that she could help others. Humble and persistent Margaret made a name for herself as a woman of generosity and kindness. Set in her adopted city of New Orleans, this story portrays a lively picture of the development of the city with its colorful past and the people who helped to make it thrive.  Recommended for 5th or 6th grade readers and up.
John Hughes, Eagle of the Church
by Doran Hurley
John Hughes was an Irish immigrant who played a significant role in the establishment of the Church in northeastern United States before the Civil War. As Bishop and then Archbishop of New York, he was the leader and protector of his people during the Nativist and Know-Nothing movements, constantly reminding his flock by word and deed of their duties as American citizens. Intensely devoted to his adopted land, the Archbishop responded loyally when asked to perform any public service. One of his admirers was Abraham Lincoln who sent him to the court of Napoleon III in France to win support for the Northern cause in Civil War.
"He was like an eagle, whether fighting for souls or defending his beloved country—a vigorous American who stood ever ready to uphold the principles of freedom."