In print at last!

Lingua Mater Americana (8th or 9th Grade) by Margot Davidson
Lingua Mater Americana is done in the same style as Lingua Mater 7 for 8th or 9th grade. All selections are by American authors, some contemporary (homeschool moms, Dawn Hanigan and Suchi Myjak as well as Elaine Woodfield). Please see the table of contents (Table of Contents_LMA) for the complete list of topics covered. Unit 4 is a short story unit.
Sample 1 – Sample_Week 5_LMAmericana
Sample 2 – Sample_Week 22_LMAmericana
Download the answer key: lm-8-answer-key
Available from Barnesandnoble.com and Amazon.com
The following titles are available from these retailers (listed alphabetically) as well as from many other online outlets .
www.sacredheartbooksandgifts.com/
Primary Language Lessons by Emma Serl, edited by Margot Davidson
The Hillside Edition of this classic book retains the charm and grace of the original with some Hillside additions: color pictures, larger page size, updated poems, and several new lessons. Added Catholic content includes a beautiful image of St. Joan of Arc, some poems by Father Faber, and a quote by St. Dominic Savio. Used in MODG Homeschool for 3rd grade. Download the answer key for free: PLLanswerkey  
Click here for a set of sample pages:  Sample pages_PLL
Intermediate Language Lessons by Emma Serl, edited and with new material by Margot Davidson
This is the Hillside version of this classic text. It includes picture study, narration, copywork, dictation, poetry study, and writing composition. This is not a grammar book–it focuses on the usage of language. The parts of speech are introduced in Part 3, but not in an in-depth way. The book is divided into three parts which roughly correspond to 4th, 5th, and 6th grades.  In the 4th and 5th grade sections we have left in all the lessons used in the Mother of Divine Grace School syllabi for those grades. There are some new pictures for the picture study pages, but they are compatible. We have updated the conversation lessons. In Part 3 for 6th grade, we edited it more to make it flow a bit better and included updates pictures and conversation pieces. The theme of the 6th grade section is "virtues" and contains conversation and composition topics on courage, generosity, gratitude, and obedience, as well as knightly chivalry.  Used in MODG Homeschool for 4th and 5th grades. Download the answer key for free: illanswerkey(1)
Lingua Mater: Language Lessons from Literature (7th grade) by Margot Davidson
A Catholic English book, combining the beauty of literature, art, and poetry with the study of grammar and composition. In this completely integrated program your student will study grammar concepts within the context of real literature and write compositions that encourage critical thinking.
The text provides daily student lessons for a 36 four-day weeks. Each week features a piece of literature or a painting, one grammar concept, and one student writing assignment. The student will learn and practice narrative, expository, and persuasive writing as well as try his hand at writing poetry. Integrated throughout the text are the thoughts of great Catholic thinkers making this a uniquely Catholic book – Catholic in perspective – focused on the beauty of our Faith.
Literature selections include pieces by St. Bernard of Clairvaux, Abraham Lincoln, Kenneth Grahame, and Robert Louis Stevenson.
Poetry selections include authors such as Sir Walter Scott, Longfellow, John Henry Newman, and Father Abram Ryan.
Printed in full color, the art selections include painters such as Auguste Renoir, William Liddall Armitage, Winslow Homer, and Carlo Dolci.
Sample of one week's lesson: Week 3 LM7
Sample of later in the book: SAMPLE_Week 21_LM7
The 80 page Teacher's Guide includes a complete answer key, numerous teaching tips, and scoring rubrics for assessing student writing. Download Teacher Guide for free:
Lingua Mater Complete answer key
Download the Consumable Supplement for free: Consumable Supplementau
Stories with a View by Margot Davidson
This beautiful book is intended for 3rd – 6th grade. It features 19 poems and 18 full-color paintings to inspire your young writer to write narratives, poems and descriptions. Each lesson has discussion questions and a writing prompt. A separate teacher's guide includes story starter lines and sample first lines. It can be used as a supplement to your writing program, doing one lesson every week or every two weeks.
Sample Page: sample Hens
Sample story written by a student inspired by the painting The Mouse by GIacomo Favretto: Sample written by a student
Paintings in this book:
Maurice Pendergast, The Fairgrounds
Joseph Clark, Playing with the Kittens
John Emms, A Restful Tune
Robert Farrier, Feeding the Rabbits
Myles Birket Foster, The Entangled Kite and Maiden Voyage
Adolf Heinrich Lier, Winter Scene with Children Playing
William Muckley, Holiday Riots or The Muckley Children at Play
Caroline Paterson, Captured Unawares
Berthe Morisot, Eugene Manet and his Daughter at Bougival
George Catlin, Buffalo Chase, A Single Death
Giacomon Ceruti, Boy with a Basket
Giacomo Favretto, The Mouse
Girolamo Induno, Childhood Mishaps
Francisco de Goya y Lucientes, Two Children with Their Dog
Filippo Palizzi, Street Urchins
Kronheim & Co., Children's Pastimes on the Beach
William Mulready, A Sailing Match
In the Animal World by Emma Serl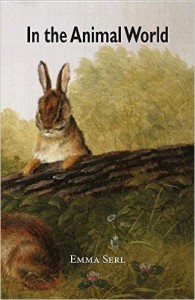 A delightful collection of stories and poems about animals. It includes some short non-fiction essays by Serl as well. Originally published in 1918, it is Serl at her best. She knew what attracts children and how to whisper to get their attention. This collection is perfect for narration and fun reading.
Grades 3 -5
Grammar-Land by M.L. Nesbitt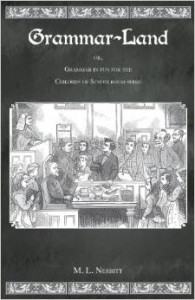 We now publish this title! It's a delightful story about the parts of speech being on trial by Judge Grammar. A lovely living book to use when talking about the parts of speech. At the end of each short chapter, the children of "schoolroom shire" are asked to do a few tasks to practice the use of the parts of the speech.
Grades 4-6